Displaying items by tag: PBS Listing
Thursday, 26 July 2018 12:12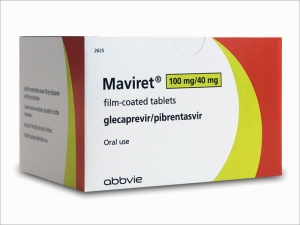 News Flash

MAVIRET® (glecaprevir/pibrentasvir) was listed on the PBS in Australia today.
AbbVie is pleased to announce that MAVIRET is to be listed on the PBS on 1 August 2018 for the treatment of chronic hepatitis C virus (HCV) infection in adults.
MAVIRET is a new 8 week pangenotypic treatment for treatment-naïve non-cirrhotic HCV adult patients.
In clinical trials, MAVIRET demonstrated 98% cure* rate in the ITT population (n/N=943/965) and 99% in the mITT population‡ (n/N=943/952) in treatment-naïve, non-cirrhotic patients pooled across GT1-6 with 8 weeks of treatment3, and a 0.1% discontinuation rate due to adverse events
*Cure defined as HCV RNA below the lower limit of detection at 12 weeks post end-of-treatment (SVR12)
An estimated 9 out of 10 of the remaining people living with chronic HCV are treatment-naïve and non-cirrhotic and may be eligible for 8 weeks of therapy with MAVIRET
Monday, 01 February 2016 15:00
Dear Colleague,
ASHM is running the Treatment of hepatitis C with Direct Acting Antivirals course at the Rydges Melbourne, Victoria on Saturday, 20 February 2016. This course is being delivered as part of the Control and Elimination within AuStralia of HEpatitis C from people living with HIV (CEASE) project in partnership with the Kirby Institute.
This full day, face-to-face course is designed to up-skill the primary care-based workforce in the current assessment and treatment of HCV infection, to enable rapid scale-up of interferon-free therapy with direct acting antivirals (DAA) for HCV. The course is designed for HIV prescribers, but may also appeal to General Practitioners, Sexual Health Physicians, OST prescribers, clinicians working in AOD settings, custodial settings and Aboriginal Medical Services.
This is a FREE course, which has been approved for 40 Category 1 RACGP points. A small number of travel scholarships for rural and regional medical practitioners to attend may be available upon request.
I have attached a flyer with further details – Feel free to forward to your colleagues and extended networks. To register for this course please go to the courses page on the ASHM website
http://www.ashm.org.au/courses
.
Please do not hesitate to contact me via return e-mail if you have any queries.
Kind regards,
Annabelle Kennett
Project Officer
National Policy and Education
ashm | Supporting the HIV, Viral Hepatitis and Sexual Health Workforce
Tel: +61 2 8204 0742 | Fax: +61 2 8204 0782 | E-mail:
This email address is being protected from spambots. You need JavaScript enabled to view it.
LMB 5057 DARLINGHURST NSW 1300 | www.ashm.org.au -