Displaying items by tag: nhs
Wednesday, 24 February 2016 21:29
Today we bring you a staggering story about a UK-based surgeon who was diagnosed with
Hepatitis C
in 2008.
One of the biggest Hepatitis C stories of 2016
Jump to 2016: Yesterday more than 8000 of his former patients were mailed an invitation to take a Hepatitis C drug test and the story quickly hit the headlines of the most reputed news broadcasters such as BBC, DailyMail, The Guardian, Independent and Telegraph just to name a few.
The Surgeon
While NHS, UK's National Health Service, refuses to reveal the identity of the surgeon in question, they did notify the public the surgeon was largely based in and around the city of Lanarkshire and have been practicing since 1982. Everybody over 26 years of age who was being treated was contacted to come to one of NHS's clinics for a quick and easy
Hepatitis C testing
.
NHS reported that the surgeon did not continue with the clinical practice after testing
positive for Hepatitis C
.
Nonetheless, during those 26 years, more than 8000 people were being treated by the unrevealed doctor. All in all, 8,383 of former patients were contacted and notified that they are strongly recommended to take a Hepatitis C test. 8,031 are based in Scotland, 336 in England, 11 in Wales and 5 in North Ireland.
Why did NHS wait 8 years before coming clean to the patients?
What is interesting in this case is the timing. Usually when a person is for example tested positive for HIV, they should immediately contact every sexual partner they had to warn them about the possibility of retracting HIV from them. This makes much sense since HIV is primarily transmitted via sexual intercourse.
However, in this case with Hepatitis C, where we have an active surgeon treating more than
8,000 patients
, NHS decided to remain quiet for 8 years. There is a low chance of getting infected with Hepatitis C via the surgical procedure but considering the seriousness of the disease and the sheer number of patients that were involved, many believe
NHS
should take the steps of bringing these patients to Hepatitis C test in 2008. Not in 2016.
So what make NHS change its mind all of a sudden?
Two patients contracted Hepatitis C while being treated
Until quite recently, it was discovered that two of the former patients that were being treated by an infected health care worker, has tested positive for Hepatitis C and are in need of treatment. The rationale here goes in the following way: if 2 patients had contracted Hepatitis C, then there is obviously a risk that any of the 8,000 patients who were being treated by the same person in a similar manner also had a chance, no matter how slim, to contract the disease.
While arguments are being raised that NHS has been thus far dishonest about the subject and only came forward when it was 'caught in the act' with these two Hepatitis C positive patients, the administration of 2008 is refusing the be blamed for the incident.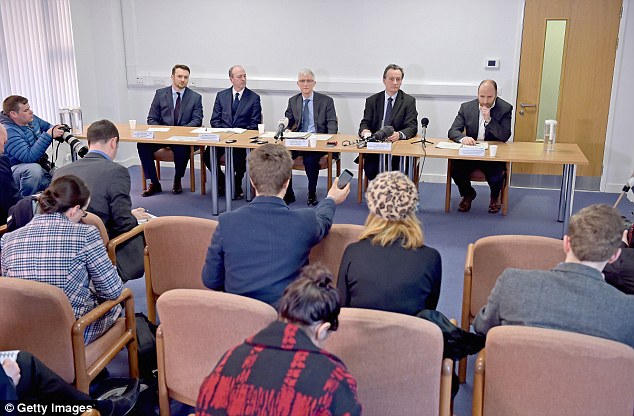 NHS Officials defending their actions about not notifying the public and everybody involved in 2008
Professor David Goldberg,
UKAP
chairman at the time, stated for the record that there was no available evidence about the possibility of surgeon's former patients to retract Hepatitis C.
Mr. Goldberg stated '
I think it's a very reasonable decision. It wasn't the wrong decision based on the evidence we had at the time.
' He added that there is less than 1 in 1,000 chance that former patients being at risk of contracting Hepatitis C.
Nonetheless, doing the math, 1 in 1,000 patients out of 8,000 patients would yield a total of 8 Hepatitis C patients. Now only 8 lives are thus at stake, NHS will have to care about treating them - and as we all know, being treated for Hepatitis C became easy but it also became much more expensive. The most sold Hepatitis C cure, Harvoni (90mg ledipasvir/ 400mg sofosbuvir), costs £39,000. For 8 patients, that would be more than £300,000 in total.
A very important thing for the former patients now is to respond to the call: Hepatitis C is a serious disease with no apparent side effects, and the only way to be sure you're not being infected by it is by taking the test. We do hope that all of 8,383 former patients will be tested and no-one will be infected. However, if some of them prove to be Hepatitis C positive...
Fortunately all of this is happening in the age of Sofosbuvir
... they can now be easily and effectively treated.
In 2008, there was no miracle cure for Hepatitis C. The best the medical science had to offer were interferon injections with severe side effects, half a year long treatment and only about 50% cure rate.
Since 2013, pharmaceutical industry has been actively developing new Hepatitis C drugs such as Sovaldi and Harvoni, based on sofosbuvir drug molecule, Daklinza, based on daclatasvir, and a few others.
Message to ALL Hepatitis C patients
Such instances are tragedies that people can barely climb over. Especially problematic here is the cost of Hepatitis C treatment. The UK case has shown us that many people can get Hepatitis C in the most innocent circumstances imaginable; but all of them will have to get the costly treatment. While NHS might admit it's mistake and foot the bill for all the patients that were infected by the undisclosed surgeon, most of Hepatitis C patients don't have the luxury of the government paying for their Hepatitis C treatment.
For all Hepatitis C patients in need of medications: Please do turn to Dr. Freeman for help. Contact us at FixHepC Buyers Club and we will make sure you will get your medications in a timely fashion and for a fraction of the cost of the original medications.