Displaying items by tag: tga
Monday, 21 September 2015 18:53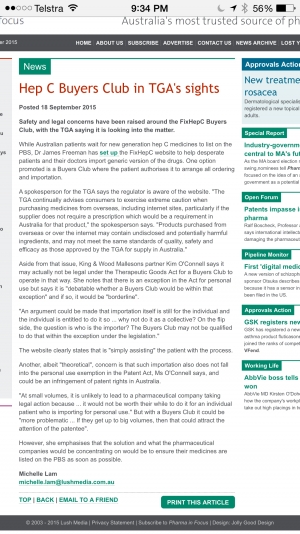 It has always been a worry that the powers that be may not like the idea of patients parallel importing life saving medications.
The Buyers Club has been active for less than 24 hours and already it seems the battle lines are being drawn: http://www.pharmainfocus.com.au/
The TGA has a job to do, and that is to ensure the medications available to Australian's are safe and useful. Why they let Chemist Warehouse sell bottles of water and call them homeopathic melatonin is beyond me but that's another story.
My job as a doctor is to treat patients with medicines that work.
I'm hopeful that the TGA will continue to respect your personal right to source medication from places where it is available at an affordable cost, rather than abuse its power to prevent that.
This could turn out to be the first big crisis for the Turnbull government - protect the interests of Gilead or those of ordinary Australians.
We will keep you posted as updates come to hand.