Hepatitis C is a life-threatening disease and needs to be addressed very seriously. Prior to 2013, the golden standard treatment was intravenous injections of interferon coupled with several antiviral molecules such as ribavirin. In 2013, Sovaldi (400mg sofosbuvir) was registered in the US. Sofosbuvir is an incredible drug that achieves 90-98% cure rate. Putting it simply, sofosbuvir-based pills have been proven to cure Hepatitis C effectively and has rendered a hardly-treatable disease into a routinely treatable one.
How to get Hepatitis C medications?
Getting treated is not quite as easy as going to the local doctor, then making a visit to the local pharmacy, but it's not actually a lot harder.
You can see how the treatment process works by following this link. In short you need to:
Decide with your doctor which treatment is best and get a script for it (we can help with the script as well)
Use that script to make your order for medications via our buyers club
Take the medications for 12 weeks with periodic simple blood tests
Hepatitis C has six genotypes and your doctor will first determine which kind of Hepatitis C you have.
Medications you will get from Buyers Club
The best Hepatitis C treatments typically use two molecules: Sofosbuvir + another one (Ledipasvir, Velpatasvir, Daclatasvir).
All genotypes - Sofosbuvir / Velpatasvir (generic Epclusa), or Sofosbuvir + Daclatasvir
Sofosbuvir can be used with Velpatasvir or Daclatasvir to treat all genotypes of Hepatitis C and 12 weeks treatment costs between $800 USD and $1100 USD.
Genotypes 1,4,5,6 - Sofosbuvir / Ledipasvir (generic Harvoni)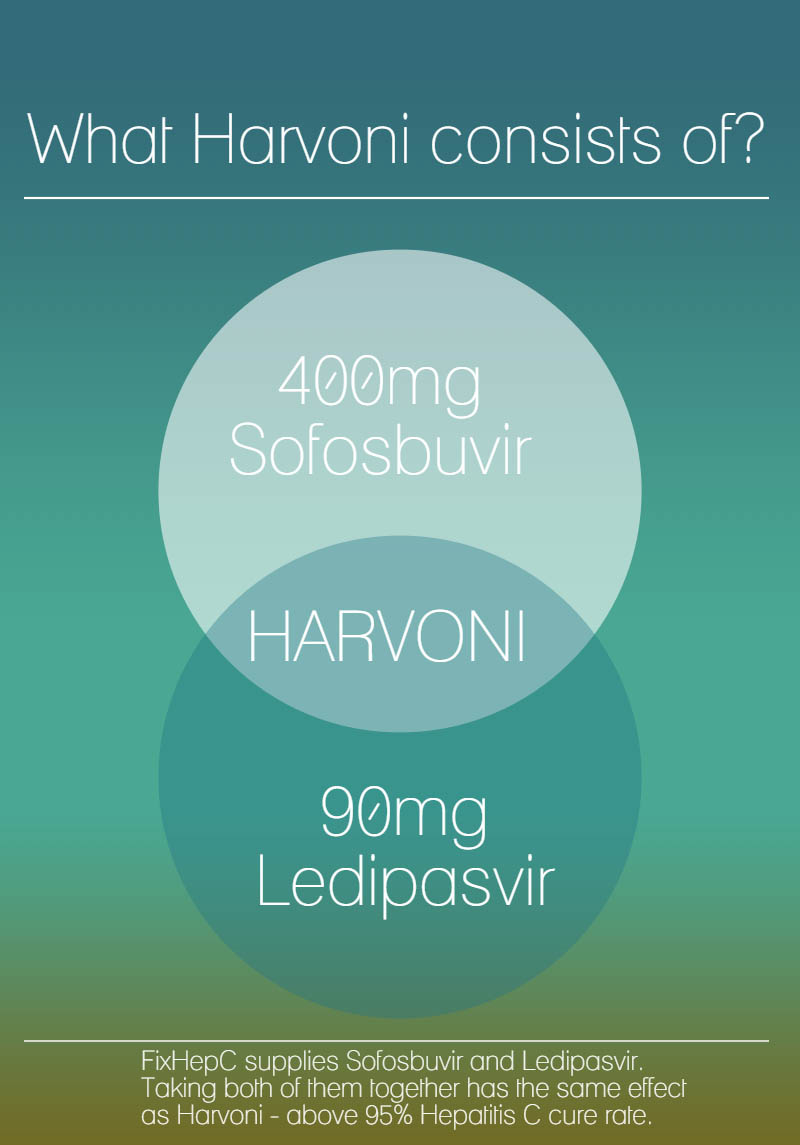 Generic Harvoni can be used for genotypes 1,4,5,6 of Hepatitis C and 12 weeks treatment costs $950 USD.
Other factors to consider when choosing Hepatitis C treatment
The correct treatment depends on several pre-treatment factors such as:
Genotype
Cirrhosis level
Past treatment experience (if, for example, you have been treated unsuccessfully with the old interferon treatment)
Age
Sex
Depending on what condition your body and your liver is in, we will work together to set a correct treatment duration for the maximum treatment effect and minimum side effects. There are three treatment lengths as far as sofosbuvir is concerned:
8-week treatment
12-week treatment (standard treatment time - more than 80% of all Hepatitis C patients)
24-week treatment (for severe cases with prolonged liver cirrhosis)
While 12 weeks is usual, treatment duration may need to be 24 weeks based on pre-treatment factors like cirrhosis and prior treatment experience.
For specifics please read our page on Hepatitis C genotype specific treatments.