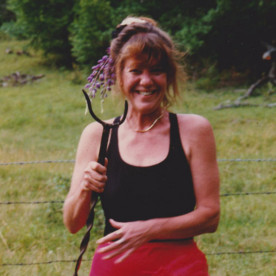 Hello all, I'd like to introduce myself. I'm Lily, an old hippie from New England, now residing on the gulf coast of Florida. I have had hepatitis C since the early seventies. I could have acquired the virus in any number of ways or situations, but dollar to donuts it was through risky behavior.
I was diagnosed around 2005 during a routine yearly visit to my GP. The yearly check-ups always included lab work. This year she included a test for hep c. I did not know it was ordered. I received a call the following week requesting I come in. I did and I was shocked. She suggested the interferon treatment and I quickly declined. I had read enough about the treatment. She pressed but I held firm. I felt fine.
I followed the news when the new DAAs became available. I had Medicare by then but not part D - Rx coverage. I no longer was feeling great. Had no idea about all the extrahepatic manifestations and their relationship to the hepatitis c virus. I was developing them all. I was slowly falling into a mental cavity of despair. A despair that whispered to me, "life is not worth living". I could not afford that luxury. I was caring for a friend dying of cancer and an elderly Mom.
I was reading to what felt like the end of the Internet. And, there was Greg Jeffery's article. It was the beginning of 2016 and I was scheduled for a yearly check-up and labs in a few months. I found fixhepc online and emailed. I filled out the patient forms and said I would bring them to my GP. Had the lab work and sent them to Dr. Freeman's office. I was GT 1b, F2 with a viral load of 5.02 IU/mL; AST 58, ALT 38. I printed all the pages of info from fixhepc and brought them with me to my GP. Her response was oh, no, no, no! She took the papers and did say she would read them, but sent me to a gastroenterologist. She said they would help me secure the DAAs from Gilead through their Support Path. This turned out to be a screaming disaster!!! Never, had I been treated so rudely. The Dr. just introduced himself and turned me over to a nurse practitioner. She said, oh, you're not that sick. After 5 months I had gotten nowhere. But now, I was ready to take charge. I contacted Dr. Freeman. Jan in the office, who walked me through the process, was so kind and caring and made everything easy. I received the best Christmas present of my life last year - a 12 week supply of Panovir from Incepta.
I began my treatment on my own. By week six I called my GP and asked for lab work. I did not tell her until I was in her office after she received the results. It was a long conversation. It concluded with a big smile on her face and my remaining her patient. I completed treatment with "Undetected" and all blood work in normal range. I recently received my 12 week SVR. UNDETECTED!!! I will have my 24 week labs in September.
I feel like a new woman. All of the extrahepatic manifestations have either resolved completely or greatly improved. This has been a miracle!
Dr. Freeman, thank you, and with tremendous gratitude, I say thank you to all the wonderful people who provided support.