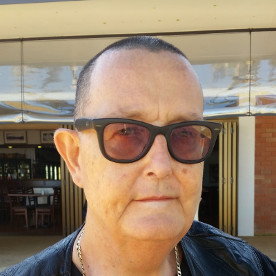 No credible testimonial would be complete without mentioning the significant events that give context and background to an individual's story. I found out that I was HEPATITIS C positive early in 2011. My condition had been exacerbated by years of heavy alcohol consumption. Despite the fact that I gave away drinking some 14yrs prior to my diagnosis meant that I already had a predisposition to liver disease.
Not being one to procrastinate, I embraced the only treatment at the time. PEGYLATED INTERFERON AND RIBAVIRIN. I knew there were other drugs in the pipeline, however, my familiarity as a health worker intuitively nagged at me with the knowledge that the cost of the medication at that time in the U.S.A amounted to $180,000.00+ U.S. It seemed fairly certain that Gilead, the multi-billion dollar company who acquired the rights to the new generation Hepatitis C drugs were not "going to share their toys".
After desperately following the Therapeutic Goods Association process and the endless clinical studies, I quickly realised that waiting for eventual approval in Australia was going to be "too little too late for me". Something then occurred that was to change my life's course. I had contacted a gentleman from Tasmania who had investigated the procurement of Sofosbuvir (the main drug used in eradicating Hepatitis C). Given that the previous treatment nearly killed me, I was keen to access these new medications. I had already been writing to dozens of pharmacies in India where I was aware negotiations were under way to have the new direct acting antivirals manufactured.
I contacted Greg Jeffreys in Tasmania. He had developed a safe, fledgeling process whereby mainly Australians could access these wonderful new medications affordably. There were no laws being broken. I had a prescription from and Australian doctor, which was ratified by an Indian Specialist. With slight trepidation, I handed over my money and waited. Sure enough, my medicine arrived from India courtesy of a trail of dedicated and honest workers. I mention this, to provide a background narrative to my story.
After 4 weeks, my blood tests showed that there was no trace of the virus. Of course, I was over cautious due to the fact that my genotype of Hepatitis C was 3a, a particularly tenacious strain of the virus. I took sofosbuvir with another drug called Daklinza for 36 weeks.Now, the recommended treatment regime is 24weeks for g.t 3 with cirrhosis. Since those early days, much has changed. People in Australia now have access to these medications as they are gazetted on our Pharmaceutical Benefits Scheme and are available inexpensively to all Australians at an affordable price. Left untreated, hepatitis c can lead to many health ailments. Early intervention and treatment can avert serious health complications.
Unfortunately, equitable, affordable access to these medications in this vast global community we call earth is not available. Many countries are fraught with corrupt raconteurs and opportunists. The points I really wish to stress here are that there are any credible añd reliable sources can that can access these new Hepatitis drugs. However, I would like to stress that the organisation FixHepC.com which is run by Dr James Freeman has taken the guess work and risk out of the whole process. The medications are sourced from the same factories that the licence brands come from. The medicines have been scrutinised for quality and correct potency and inclusions.
I cannot recommend or urge anyone with Hepatitis C or who has a loved one suffering from it enough to not delay. Answers and cures are accessible and realistically priced. Please don't feel alone. There are support groups with representatives in every country. There are solutions being overcome daily to reach the more difficult nations. I make this statement for no induce entry or benefit, other than my dearest wish to see other people avail themselves of global solutions. Anyone who wishes to contact me may do so on +61(0)405 44 6069 or +61(0)7 40619659. My full name is Paul Stephan Giffen. I reside at 17 Seymour Street Innisfail Queensland.
I am a retired Senior Nurse Educator and Clinical psychologist.