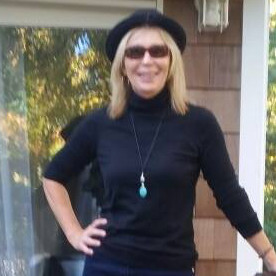 Hi! My name is Coral and I live in Queensland, Australia. Like many baby boomers, I carried the Hepatitis C virus (Genotype 1a) for years before diagnosis in the late 1980s. It is likely that I contracted the virus while working in a hospital in my early 20s but who knows?
I spent decades in denial until the effects of the virus began to seriously impact on all areas of my life. The brain fog, the tiredness, insomnia (and yes the stigma) were sucking the joy out of me. In 2014 I was confronted with having to consider whether I could handle the interferon-based treatment regime which was infamous for some appalling side effects and a low success rate.
In 2015 a well-informed ultrasound operator at my hospital told me about the new Hep C treatments that were coming down the pipeline. The only problem was the US$84,000 price tag charged by the US pharmaceutical company with the patent, Gilead Sciences. Around the middle of 2015 I was seriously considering whether I could mortgage the house or find the money somehow to fly from Australia to the US to have this new treatment.
A few months later a newspaper cutting from a friend led me to the FixHepC Buyers Club which was operating out of Tasmania, Australia and assisting people to legally import generic versions of the new DAA medications from China and India at a much lower cost (about US1250). This is largely due to lower manufacturing costs but the drugs are exactly the same. These new treatments were more effective and generally had minimal side effects. Plus, they were tested in a laboratory in Tasmania before they were forwarded to me!! Could this be for real??
I found out that the FixHepC Buyers Club was established by an Australian Doctor who has demonstrated extraordinary humanity and courage, by setting up a process that ensures that people across the globe can gain affordable access to the new treatments. A week later I had an appointment with Dr James Freeman, via Skype, at the online medical service GP2U. He looked at my most result blood results and fibrosis score and prescribed a course of treatment (Harvoni). I transferred AUD$2,847 to the FixHep C Buyers Club and a few weeks later the courier delivered the medication. Yes, it certainly was for real!!
I also logged onto the FixHepC forum and what an incredible support that has turned out to be. Not only technical information but people at all stages of treatment, posting stories, comparing side effects and generally sharing the lows of living with HepC and the highs of finally beating it.
My treatment, with very few side effects, went on a little longer than some because I was one of a very small percentage of people who relapsed after the end of treatment. Due to the new drugs that were now coming on to the market I had another consultation with Dr Freeman and was able to recommence treatment without too much of a delay. All of the treatment that I ordered arrived at my home within a few weeks.
I have now been free of this virus for many months and very soon I will reach 24 weeks of sustained virological response (i.e. no virus is detected) which for all intents and purposes means I am cured. But I already know that. The brain fog has lifted, my energy has increased, I am sleeping better and basically, the joy has returned to my life.
For anyone with Hep C seeking a cure (and who isn't?) I would say don't hesitate. FixHepC is the affordable pathway to getting that monkey off of your back and claiming your right to a HepC free life.