Can Pharma companies produce enough DAAs to erradicate HCV?
Topic Author

Platinum Member
Vindecat de HCV cu med. generice. Cured with generics HCV drugs.
5 years 2 months ago
#24531
Hello Everybody,

even though I placed this question under the "Fun Stuff and Trivia" category, I believe it is quite a good question, especially that we see how "hard" Big Pharma tries to fight for the profit.
I have no idea from what raw substances the DAAs are being produced, nor how the process look like, yet I wonder whether the Pharma companies (branded and generics together) would have in total enough production capacity to manufacture the DAAs to treat ALL HCV patients.

Let's assume for a moment that the cost for a 12 week HCV course of treatment would be 1$. (What a dream
...). We would have the following data:
No. of patients worldwide : ~180 000 000
DAAs used (assumption) : Sofosbuvir 400mg + Ledipasvir 90mg (or Daclatasvir.... or ... Velpatasvir.... well, that's just an exercise)
For one patient there would be necessary:
Sofosbuvir 84 days x 400mg = 33.6 grams
Ledipasvir 84 days x 90mg = 7.56 grams
For ALL patients worldwide it would be necessary to produce:
Sofosbuvir: 180 000 000 patients x 33.6 grams ~= 6 million Kg
Ledipasvir: 180 000 000 patients x 7.56 grams ~= 1.36 million Kg


Are these couples of millions Kg of DAAs really hard to produce? Do the Pharma companies face real difficulties in producing such quantities or are they able to produce even greater quantities?

Is the production of DAAs as complex as gold extraction (i.e. does it use rare raw materials? ) ? Or is it like oil extraction (i.e. does it use relatively easy to find raw materials?) - I would guess it would be required far less than a regular oil tanker to carry the DAAs substances all over the world to treat the patients ....

Hm ...

Cheers,
RHF
---
In fiecare an HCV ucide peste 500000 oameni.Medicamentele generice pentru hepatita C functioneaza. Nu deveni statistica! Cauta pe Google "medicamente generice pentru hepatita C".
HCV kills more than 500000 people every year. HCV generic drugs work. Don't become a statistic.
By sharing this Youtube video you might save someone's life!
My TX: HEPCVIR-L[generic Harvoni]-India
SVR52 achieved
Please Log in or Create an account to join the conversation.
5 years 2 months ago
#24552
Another way of looking at it is like this.

The WHO estimate has dropped to 70 million with HCV.

Currently, we treat 17 million patients with HIV with 52 weeks of double, triple or quadruple antivirals.

These antivirals are similar to HCV antivirals.

So 17 million full year treatments are the same as 17*52/12 = 73.6 million 12 week treatments.

In short we have proven capacity to make enough antiviral medicine for every patient in the world with HCV in a single year. We already produce more than this quantity for HIV.

It took us 10 years to get to that scale, but still, it is quite clearly doable without raising much of an industrial sweat.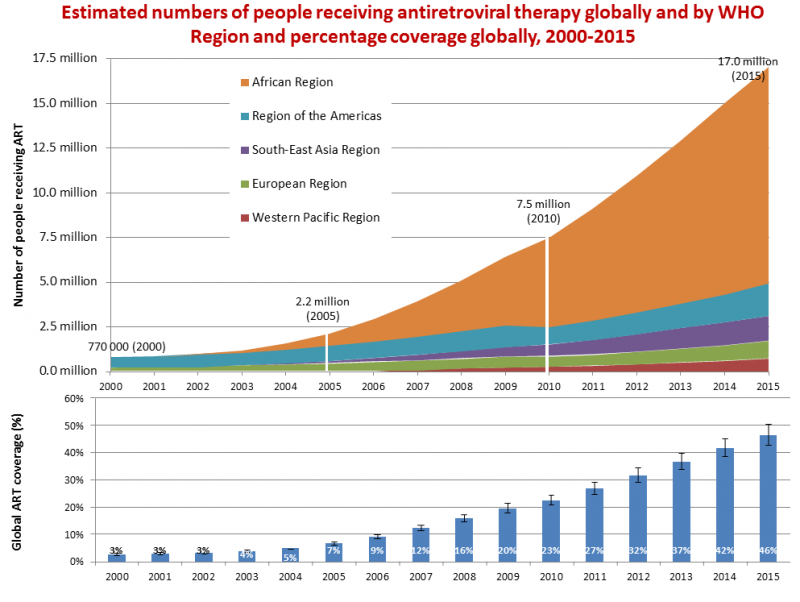 Please Log in or Create an account to join the conversation.
Time to create page: 0.038 seconds