Should I go to a therapist?
3 years 11 months ago
#27119
Hi Jack,

What you are describing sound like run of the mill age/noise related hearing loss. You lose the high frequencies which makes picking noises out hard.

Sometimes it's as simple as wax blocking your ears and easily fixed, but sometimes it is a hearing aid (and hearing protection) that's needed.

If you have a smart phone and some headphones a quick and easy way is to search the App/Play store for "hearing test app"

This is not calibrated but does give a reasonable guide to hearing loss. Not so much how much (depends on your headphones) but rather where you may have (high) frequency loss.

Here is what normally happens to all of us with time: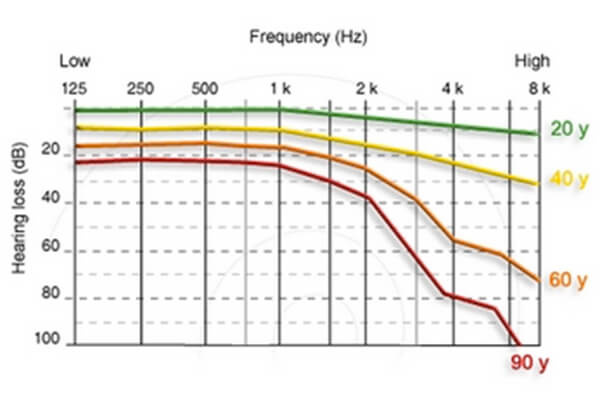 Please Log in or Create an account to join the conversation.
3 years 11 months ago
#27120
Jack

If your doctor will order a test then OHIP will usually pick up the cost of the diagnosis if you don't have private coverage.
There are many places around Toronto,
Just google somewhere close to where you are.


www.bravohearing.com/does-ohip-cover-hearing-tests/

S
---
Diagnosed: 2001 GT1a , HCV since mid-70's.
Biopsy 2010 F1
Fibroscan and Fibrosure 2018 F2

Treated in trial 2010 with Dac/Peg/ Riba and Relapsed.

Resistance test 2017. Have Ns5a Rav Q30r/H58d enhanced from doing Dac.

Start Tx. Jan 18th/18 w/ Vosevi /Riba 12wks. plus 6 wks.Viekira Pak +Sof/Riba(From Dr Freeman @GP2U)

VL start: 1.6mill.ALT 125 AST 88
Wk. 4 Det @LLOQ <15.
VL Wk.8 UND Alt &Ast 22
Wk. 12 UND
EOT:UND

EOT+12 >>>UND (SVR12)! ALT11 AST13
Nov6/18 SVR 24!
Please Log in or Create an account to join the conversation.
Time to create page: 0.037 seconds