Happy Holidays with VPN Remote Access
6 years 2 months ago
#16866
Hi folks,

This year, on 15th June I'll be off tae Majorca for ma holidays!

But dinnae fear, I'll still be gettin all the UK news and TV programmes from the good-ole BBC while I'm there, thanks tae VPN. Crivvens, what's VPN, you might ask? Well, in simple terms, it's a fancy way of leaving the lights on in the livvin room while yer awa! That way, naebody'll try tae steal yer bucket when yer not sittin on it!

But how does it work? It's simple. When yer away, ye just connect yer mobile or whatever tae a VPN server like

www.proxyplayer.co.uk/

or

www.goldenfrog.com/vyprvpn/uk-vpn

and then ye can watch BBC iPlayer an stuff like that from the beach! And the BBC still think yer at hame in front of the telly! Crafty, eh? In fact, ma paw does this every year so he can still watch the Premier League back home while he's gettin his ears sun-burned.

Of course, ye normally have tae pay a monthly subscription for the VPN. But if you don't believe it works, you can try it oot for yerself in a free demo. For example, just go here

hide.me/en/proxy

and type in "fixhepc.com" or something like that, and ye'll be readin all the latest news from Kevin an Wee Mikey from the good-ole USA in nae time! Or maybe its coming from Singapore or Holland? Who knows! Its just the dab for travelling the world from the comfort of yer front room!!

Happy Holidays!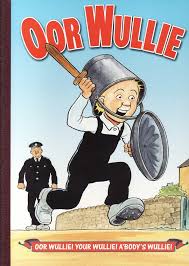 ---
Diagnosed Jan 2015: GT3, A0+F0/F1. Fatigue + Brain-Fog.
Started Sof+Dac from fixHepC 10-Nov-2015. NO sides.
Pre-Tx: AST 82, ALT 133, Viral Load 1 900 000.
Week4: AST 47, ALT 58. VL < 15 (unquantifiable).
Week12 (EOT): AST 30, ALT 26, VL UND
Week16 (EOT+4): AST 32, ALT 28, GGT 24, VL UND
Week28 (EOT+16): AST 26, ALT 22, GGT 24, VL UND
Ever grateful to Dr James.

Relapsed somewhere after all that... Bummer!

Jan 2018: VL 63 000 (still GT3).
Last Edit: 6 years 2 months ago by
Vororo
.
Please Log in or Create an account to join the conversation.
6 years 2 months ago
#16869
Faerwael Oor Wullie. Haste ye back!
---
Failed Interferon 96', G1a, VL = 9 - 5.5 Million, F3/A3, AST 111, ALT 190, Generic DAA treatment Sof/Led (Mylan - India MYHEP LVIR) - 8 June, 2016
2 Week Results 20 June, 2016 AST 19, ALT 32
4 Week Results 06 July, 2016 AST 22, ALT 30, VL = 35
6 Week Results 20, July 2016 VL only = HCV RNA Detected, Non-Quantifiable <15
8 Week Results 04 August 2016, Labs, LFTs Normal, VL = UND
12 Week Results 31 August, 2016 LFTs Normal, VL = UND
EOT + 4 Weeks, LFTs Normal, VL = UND, "SVR4"
SVR12, 21 Nov 2016. CURED!!!
Last Edit: 6 years 2 months ago by
fitz
.
The following user(s) said Thank You:
Vororo
Please Log in or Create an account to join the conversation.
Time to create page: 0.036 seconds